INSPIRING THE NEXT GENERATION – HONOURING OUR HISTORY
Speakers:
Martin Boucher, Société des Panses Woodlot, Lac-des-Loups, QC
Gordon Black, Founder, Log's End, Bristol Mines, QC
Mr. and Mrs. Alary, Sucrerie Alary, Luskville, QC
Greg Graham, Owner, Coronation Hall Cider Mills, Bristol, QC
Canadian Institute of Forestry Representatives: Victor Brunette and Mike Rosen
CONSERVATION OPTIONS FOR PRIVATE PROPERTY – NATURAL RESOURCE MANAGEMENT FOR KITIGAN ZIBI – LAND ETHICS, PAST AND PRESENT
Centre Wakefield La Pêche
CONSERVATION OPTIONS FOR PRIVATE PROPERTY
Caroline Gagné, Director – Western Quebec, Nature Conservancy of Canada (an important private land partner in the Outaouais)
NATURAL RESOURCE MANAGEMENT FOR KITIGAN ZIBI
Erik Higgins, Director of Natural Resources and Wildlife, Kitigan Zibi
LAND ETHICS, PAST AND PRESENT
Victor Brunette, Private woodlot owner
Free
NEW APPROACHES TO FORESTRY AND SUSTAINABLE MAPLE FORESTS
Nature-based solutions to the climate and biodiversity crises and practices to ensure the future of our maple forests.
CELEBRATE EARTH DAY 2023! RIGHT TREE, RIGHT LOCATION: GROWING A NEIGHBOURHOOD
La FAB
Orientation and practical tips set the stage for a workshop in the Hendrick Farm community on best practices for healthy trees
Shelley Lambert, Director, Forêt Capitale Forest
Paul Hetzler, ISA certified arborist and environmental consultant
Care and Consideration for Food-Bearing Trees
Outaouais Environmental Campus
La Pêche Organic Orchard (POCO) offers a unique site for demonstrating early spring maintenance tasks that allow trees, bushes, and vines to flourish.
Shelley Lambert, Director, Forêt Capitale Forest & Chief Food Forester at Nanabush Food Forests
Stephanie McNeely, Director, Forêt Capitale Forest
Free
Caring for the Community Forest on NCC Lands
NCC Visitors Centre (33 Scott Road, Chelsea)
Experience the challenges and opportunities facing professionals juggling multiple demands and priorities in these well-loved forests.
Stéphane Wojciechowski, Senior Manager
Bruno Chicoine, Forest Engineer
Marina Torreblanca, Biologist
National Capital Commission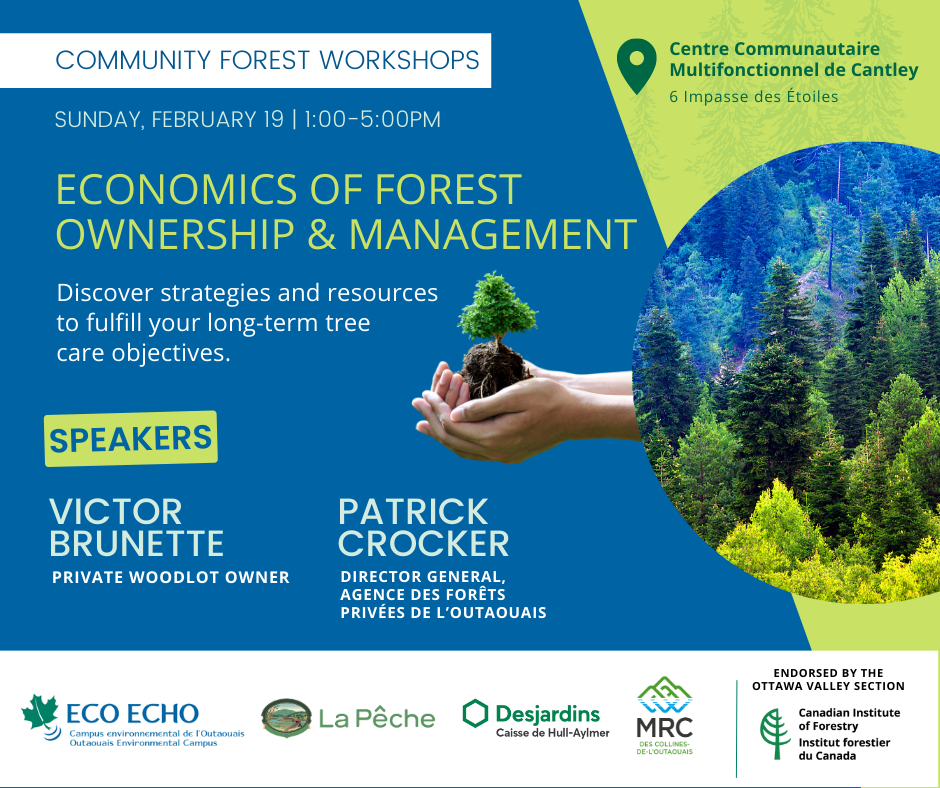 Economics of Forest Ownership and Management
Centre Communautaire Multifonctionnel de Cantley

 
6 Imp. des Étoiles, Cantley, QC
Discover strategies and resources to fulfill your long-term tree care objectives. Victor Brunette, private woodlot owner Patrick Crocker, Directeur Général, Agence des forêts privées de l'Outaouais
January 22 @ 13:00 - 17:00
Impacts of Climate Change on Our Forests
Wakefield La Pêche Community Centre, 38 ch de la Vallée-de-Wakefield
Identifying and managing invasive species and the precarious future of Sugar Maples
Paul Hetzler, ISA Certified Arborist and Environmental Consultant
Mike Rosen, Past President of Tree Canada and Forestry, Arboriculture Consultant
Free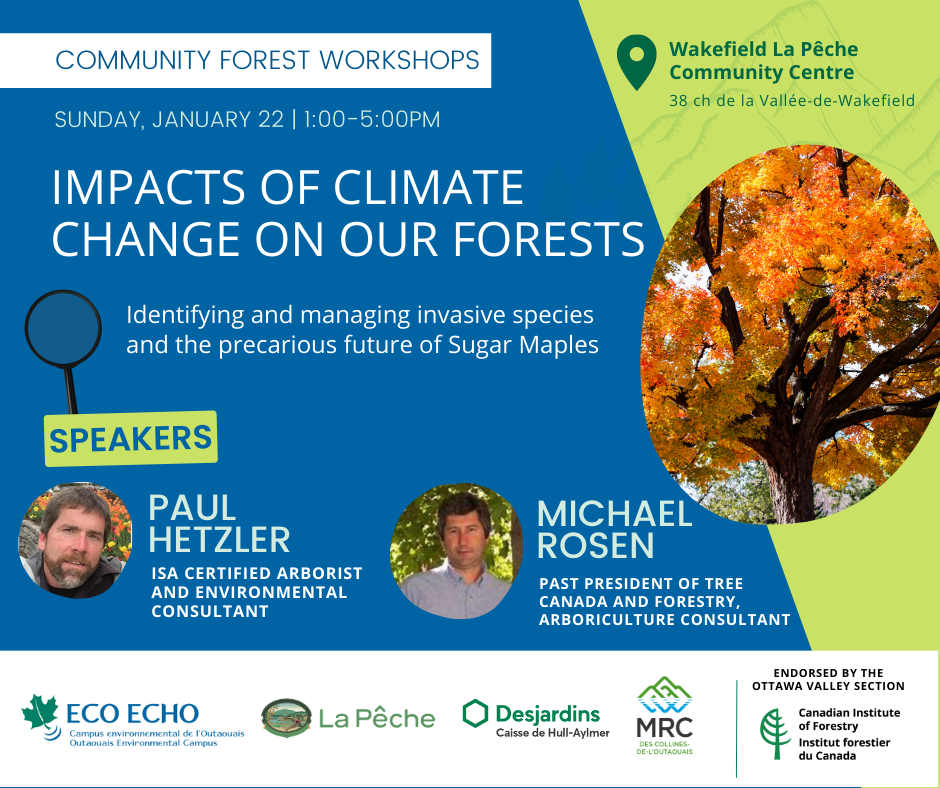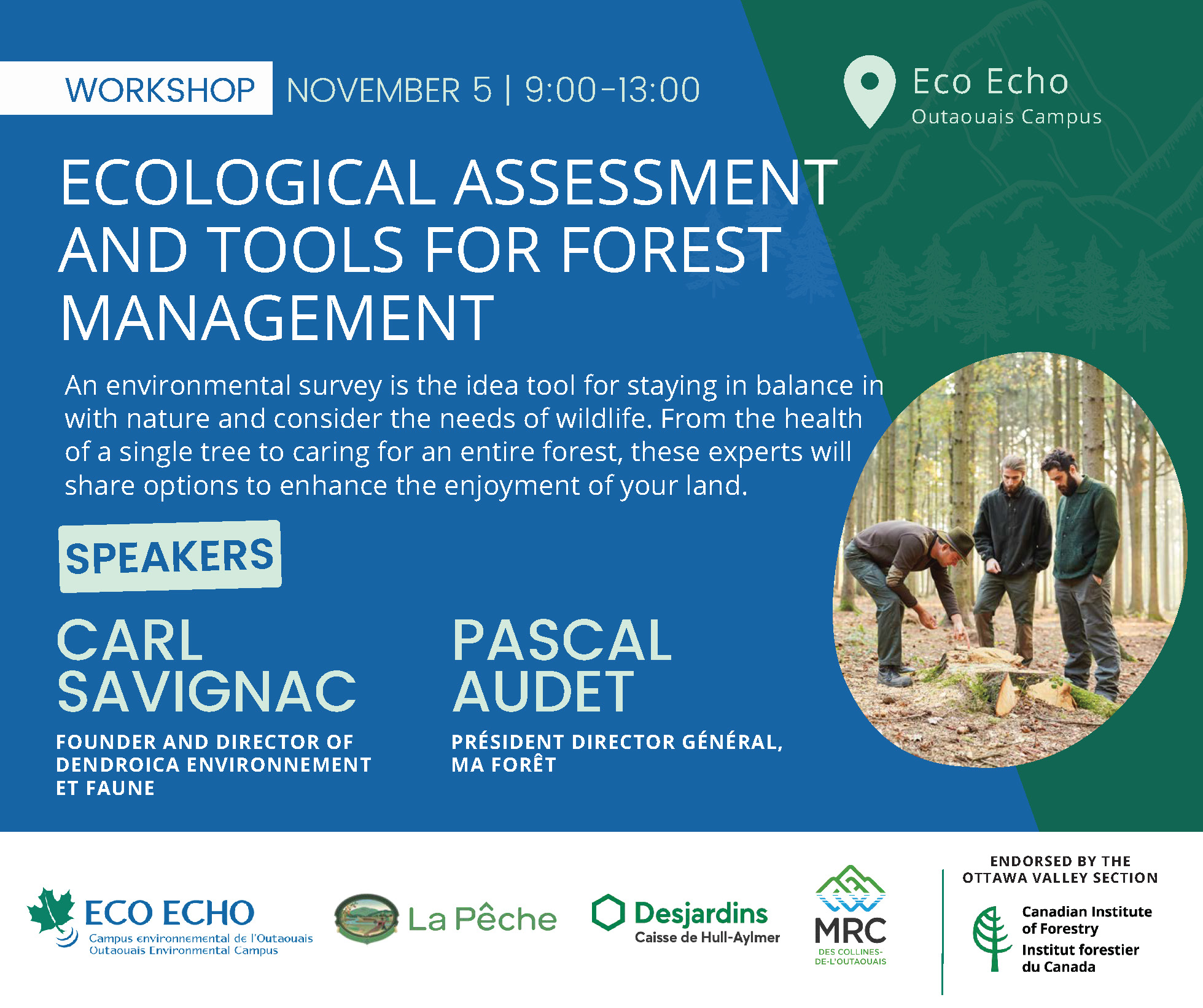 November 5, 2022 @ 09:00 - 13:00
Ecological Assessment and Tools for Forest Management
Éco Écho (70, route 105)
Carl Savignac, founder and director of Dendroica Environnement et Faune (dendroica.ca)
Pascal Audet, Président director général, Ma Forêt (maforet.ca)
An environmental survey is the idea tool for staying in balance in with nature and consider the needs of wildlife. From the health of a single tree to caring for an entire forest, these experts will share options to enhance the enjoyment of your land.
Free
October 8, 2022 @ 13:00 - 16:00
Managing your Property: Tree care options for Homeowners
Carpool from Jean Burger (88 Route 105)
Michael Rosen, past President of Tree Canada, Forestry, Arboriculture Consultant
See how an experienced arborist/professional forester/maple syrup producer and tree lover manages his diverse property with the challenges of a growing rural neighbourhood.
Free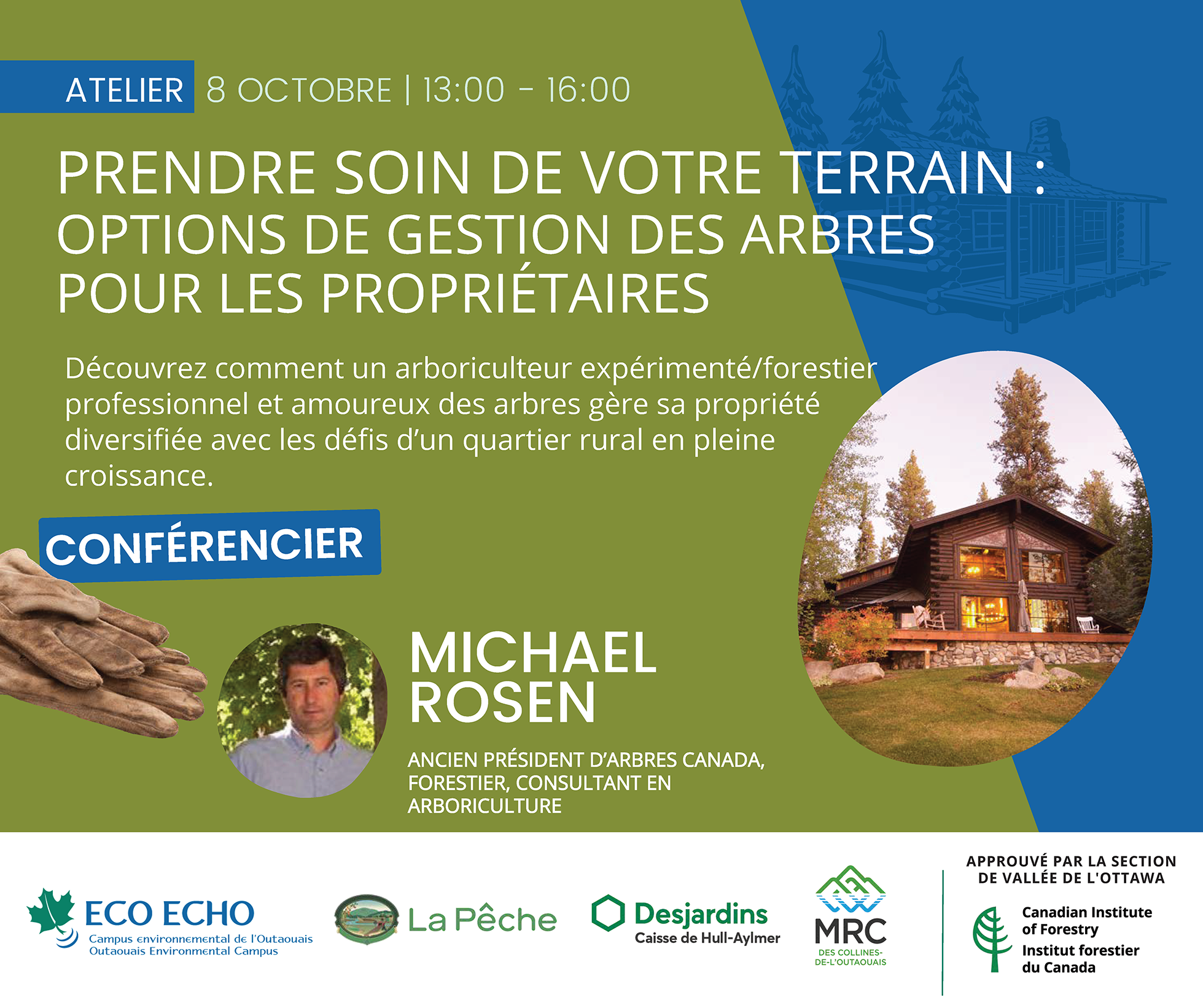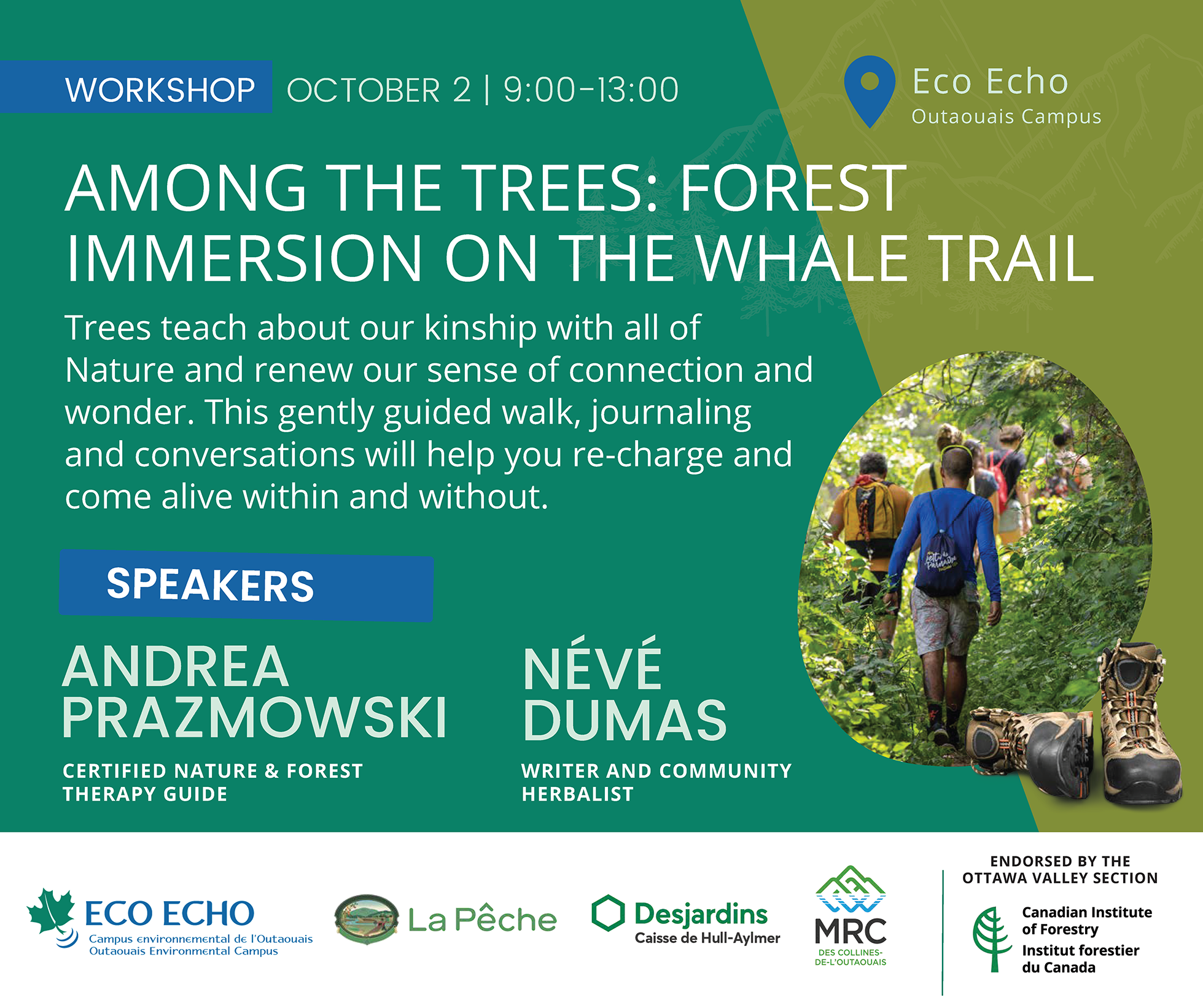 October 2, 2022 @ 09:00 - 13:00
Among the Trees: Forest immersion on the Whale Trail**
Andrea Prazmowski, Certified Nature & Forest Therapy Guide (foresttherapyottawa.ca)
névé dumas, writer and community herbalist
Trees teach about our kinship with all of Nature and renew our sense of connection and wonder. This gently guided walk, journaling, and conversations will help you recharge and come alive within and without.
Presented in partnership with La Pêche Global Forest Wakefield (lapecheglobalforest@gmail.com) f @LaPecheGlobalForestInitiative
September 25, 2022 @ 09:00 - 13:00
Planting and Preparing trees for Winter
Mike Petryk, Director of Operations at Tree Canada (treecanada.ca)
Victor Brunette, Woodlot owner and past Director General of AFPO (l'Agence des forêts privées de l'Outaouais) (afpo.ca)
Learn best practices for care and maintenance, help Eco Echo manage our young forest of 20,000 trees, and support Canada's 2 billion trees goal!
Eco Echo (70, route 105). Parking at Jean Burger (88, route 105)
Bring water, snacks, sturdy boots, and gloves (equipment provided)