The announcement of funding for a Community Forestry Education project
The announcement of funding for a Community Forestry Education project at the ecoecho.ca  was held on Tuesday, November 1, at the Chelsea administrative offices of the MRC des Collines-de-l'Outaouais.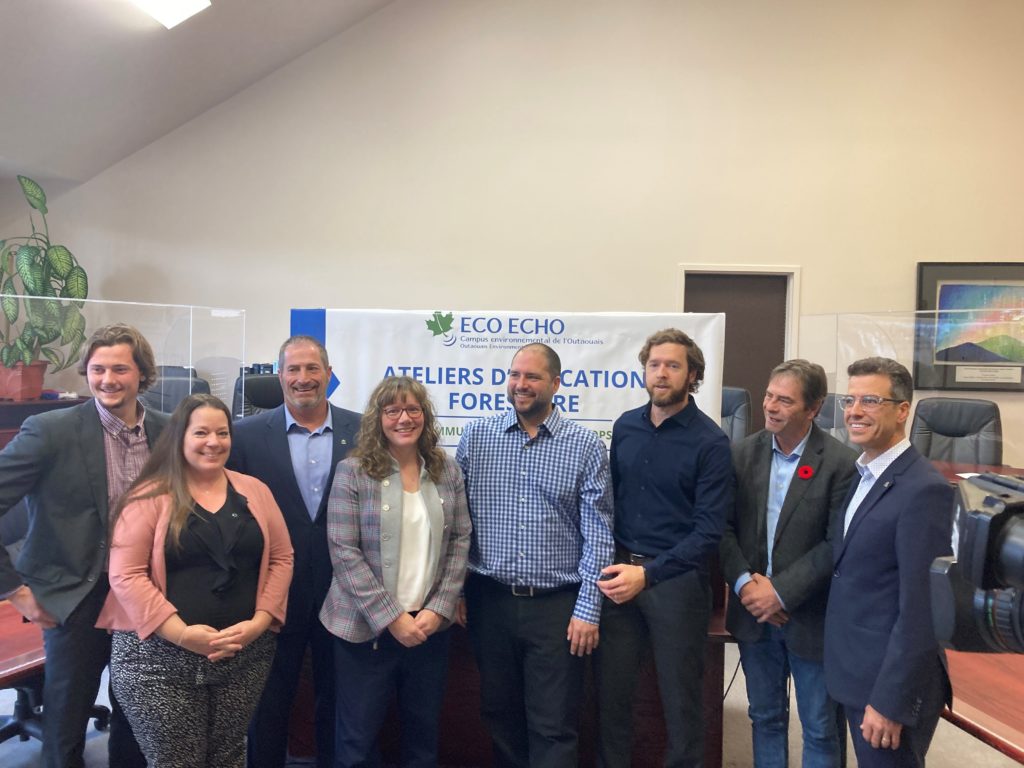 From left to right: Jeremy Howard and Michelle Villeneuve, Caisse Desjardins Hull Aylmer, Marc Carrière, Warden of the MRC des Collines, Jacinthe Brisson, general manager of the Secteur sud-ouest at the ministère des Ressources naturelles et des Forêts, Éric Corneau, President and Co-founder, Eco Echo, Guillaume Lamoureux, Mayor of La Pêche, Roger Larose, Mayor of Pontiac, Pierre Guénard, Mayor of Chelsea.
Managing your Property: Tree care options for Homeowners
Michael Rosen, past President of Tree Canada, Forestry, Arboriculture Consultant
See how an experienced arborist/professional forester/maple syrup producer and tree lover manages his diverse property with the challenges of a growing rural neighborhood.
Carpool from Jean Burger (88 Route 105) departs for a private home
Bring water, snacks, and walking shoes.
Among the Trees: Forest immersion on the Whale Trail**
Andrea Prazmowski, Certified Nature & Forest Therapy Guide (foresttherapyottawa.ca)
névé dumas, writer and community herbalist
Trees teach about our kinship with all of Nature and renew our sense of connection and wonder. This gently guided walk, journaling and conversations will help you re-charge and come alive within and without.Presented in partnership with La Pêche Global Forest Wakefield (la*****************@gm***.com) f: @LaPecheGlobalForestInitiative
Contact us by text at 819-360-1833 if you have special needs/questions
Eco Echo (29, chemin Trowsse off Rockhurst) Parking is limited.
Bring water, a journal, snacks, and a mat to sit on
**The Whale Trail was completed by Sentiers Wakefield Trails volunteers.
Planting and Preparing trees for Winter
Mike Petryk, Director of Operations at Tree Canada (treecanada.ca)
Victor Brunette, Woodlot owner and past Director General of AFPO (l'Agence des forêts privées de l'Outaouais) (afpo.ca)
Learn best practices for care and maintenance, help Eco Echo manage our young forest of 20,000 trees, and support Canada's 2 billion trees goal!
Eco Echo (70, route 105). Parking at Jean Burger (88, route 105)
Bring water, snacks, sturdy boots, and gloves (equipment provided)